Welcome to Heartworks Lomi Lomi Level One online training course.  This online course is an introduction to Heartworks Lomi Lomi but is not the full practitioner certification.  That said, if you follow all the lesson's, and complete each step you will finish with a new and fresh outlook on life along with a 45 – 90 minute beautiful and flowing back body routine to use for yourself and the ones who's hearts you wish to touch.
The course is intended for four categories of students:
Those who are enrolled in/plan to enrol in one of our future full practitioner certified training courses.
Those who are only interested in the video course as an introduction to massage and/or Hawaiian Healing and Philosophy.
Those who have already completed Heartworks Level One with us or another school who wish to remember some of what they learned.
People already practicing other healing arts who wish to transform their practice and add to their repertoire.
This course will greatly support you on your learning journey.  There are four steps to get the best out of the videos in this training:
Go through each lesson in order, read, watch and complete any other tasks.
Watch all the videos once through.
Now watch all the videos again and at the same time physically copy the techniques as an air practice on an imaginary body or volunteer if you have one already.  No oil and if you have a volunteer they can remain clothed.
Now watch all the videos again with a volunteer to actually practice on as an oil massage.
What you'll need to complete step 4 as a complete practice:
Yourself dressed in comfortable massage clothes that might get oil on them.
Partner to practice the processes on (option to practice as an air practice on an imaginary body).
Massage table with sheet covering (option to improvise on a table or bed).
Sarong or sheet to cover your practice partner (sarongs are an ideal size and perfect if your space is warm, place a large bath sheet towel or similar size blanket over the sarong for additional warmth in cooler spaces).
A large bath towel or blanket to cover your partner in-case it gets cold (have this handy even if it's warm as your volunteers body might get cold mid massage).
Massage oil (our preference is organic cold pressed coconut oil which can be purchased from most grocery or health food stores.  You can substitute with almond oil or grapeseed oil or even used a thicker balm/body butter for more friction).  Go natural, avoid any additional ingredients including essential oils unless you are trained in essential oil uses.
A non toxic disinfectant spray that will not hurt your massage table (we use sphagnum moss spray from Tri Nature in Australia – https://trinature.com/index.php?route=product/search&search=sphagnum%20moss)
A few spare hand towels, sarongs and sheets.
We mentioned above that you can improvise with a table or bed if you don't have a massage table yet.  It's a good idea however to start shopping around or organise to borrow a table at least while you are going through the training.  Here's a link to our blog on how to choose the right massage table for you:
Your online course exchange is $333 Aud.
This amount is taken off your live full practitioner training when you attend within 1 year of registering for the online training.  This offer will be honoured beyond 1 year if for some reason we have not been able to run any courses within 1 year of your online course registration.
Enjoy learning the gift of Conscious Touch through the ancient art of Hawaiian Lomi Lomi.
We look forward to meeting you on one of our in house live training courses when you are ready in natural time.
Mahalo (thank you),
Julian Eyre and Tara Leilah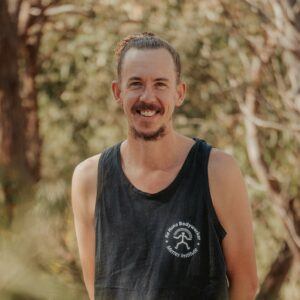 Volunteers for the Conscious Touch Collective Project and your Course Facilitators